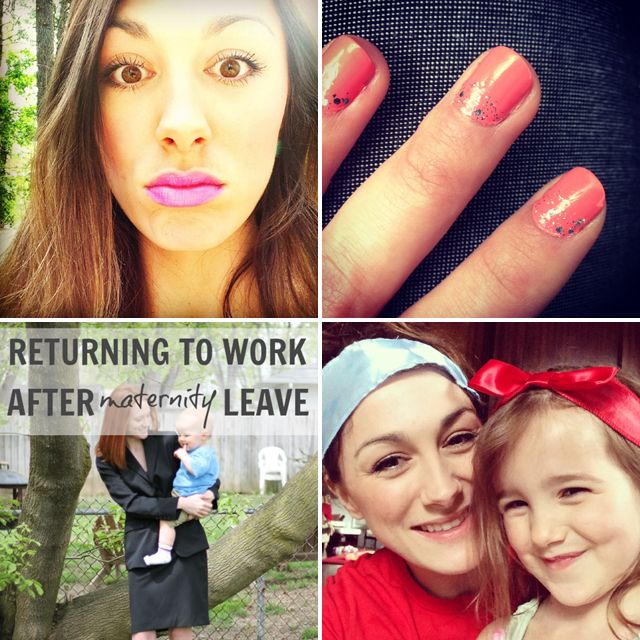 TGIF! Wow, what a wonderful week! Here are 5 things that have made me smile this week…
1) New HOT pink lipstick!
I've never been that into beauty or makeup… until this past year or so. And now I am having SO much fun playing with different products! I found a coupon in a magazine for $2 off a Maybelline Colorsensational lip product, so I bought their new Vivids lipstick in Pink Pop. It is definitely the brightest lip color I've ever worn! I love the way it feels and tastes (you know how some lip products just have a nasty perfumey taste to them? Not this one!).
2) I gave myself a pretty manicure.
Again, I'm having so much fun experimenting with beauty products! I went years without painting my nails on the regular and now I can't get enough of having a pop of color on my hands. This week I'm rocking Essie's Tart Deco (a bright coral) with some Dollar Store glitter polish on the base. It makes me happy. 🙂
3) I co-wrote an article for Daily Mom.
I had the pleasure of collaborating with my friend Megan from The Memoirs of Megan on a helpful article on DailyMom.com about Returning To Work After Maternity Leave. I love being able to use my experiences to help others – definitely one of my favorite things to do in writing! Please check it out HERE and let me know what you think!
4) Playtime with my kiddos.
Watching Leila's imagination develop has been so much fun! She's at the age where she likes to pretend ALL THE TIME. We've been playing princesses a lot lately. Or that I'm the baby and she's the mommy. And Landon is always just right there with us! (Leila likes to make him the prince or the daddy.) It's like I get to re-live my childhood all over again!
5) I had a 3-day work week!
Since Monday was Memorial Day and I don't work Fridays anymore, I only had to go to work 3 days this week! YAY! OMG did it feel good! And now I'm getting started on 3 days home with my beautiful family. What to do, what to do…
Happy Friday to you!