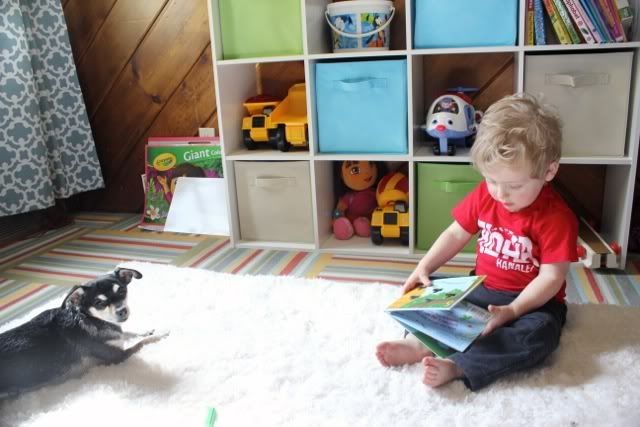 Near the end of my pregnancy with Landon I spent so much time worrying about how Leila would adjust to being a big sister and not having 100% of our attention any more. I wasted a ridiculous amount of time stressing about this and thinking about her. I never once thought about how Landon would feel as a second child or how my parenting skills would change as a mother of two.
And now I see it all so clearly.
I'm a good mom. I'm proud of myself most of the time. But it makes me sad that my second child has never had 100% of his momma's focus. Sure, we still get our one-on-one time every now and then and sure, I love this kid like CRAZY. But, I've slacked in the parenting department with him. Most specifically, I hardly ever take the time to sit down and read books to him.
Ever since Leila was just an infant, we've read to her EVERY night before putting her down to sleep. EVERY night. Even after I gave birth to Landon, we kept up this routine with her. And our poor little Landon? Well, I think the craziness of returning to work after just 3 months and then having to balance two kids for dinner/baths/bedtime took a toll on my mommy skills. It has been more about survival than thriving. With Landon going to bed at least an hour before Leila, I've pretty much always just changed his diaper and put him down to sleep. No books or special bonding time with mommy. And then an hour later with the house quiet and the stress of the day dissipated, I read to Leila.
I've been living in such a whirlwind that I didn't even realize this until just a couple weeks ago. How can I NOT be reading to my son?! I feel awful. I brought it up to Andy (who usually gets home from work after Landon is already asleep – thus the frazzled, burnt out mommy stress) and we both agreed that we need to make up for lost time. So, I have adjusted Landon's bedtime routine to include book time. However, there are still some nights when he is cranky and tired and Leila is needy for me and I just want him to SLEEP. So, I skip the books. Mom fail.
I see Leila's love for books and her interest in learning to read already and I wonder if my son will have this, too. From now on I am making books a priority in his life. After all, I have visions to live up to – visions of both of my children snuggling in bed with me as I read classic children's chapter books aloud to them. Like my mom did with me.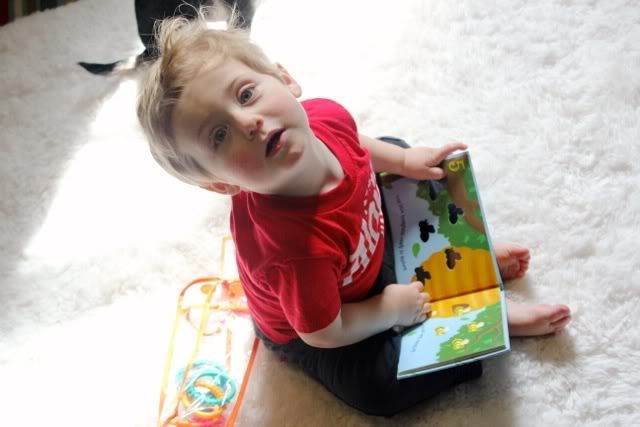 What about you? Are you good about reading with your kids? Any other moms of 2+ struggle with guilt like this?