So, I totally stole this idea from a product I wanted to buy from Pottery Barn Kids last year: an adorable large cloth envelope that hangs from the back of a chair for Valentine cards and goodies for the kiddos. I made a much cheaper version using basic craft supplies. Check em out…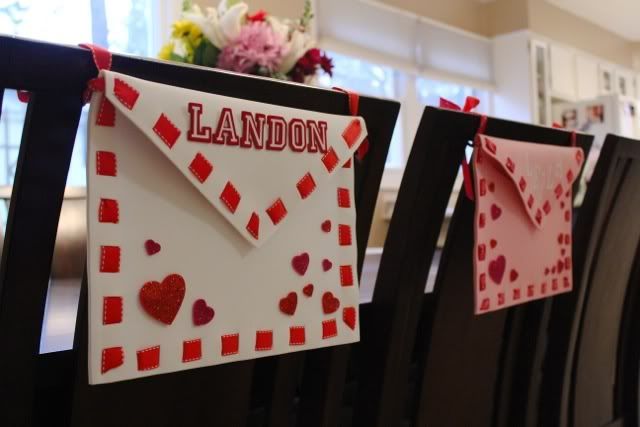 Supplies needed:
Two sheets of craft foam in color of your choice (or, you could probably use felt instead). I used 2mm thick 11×17 inch foam.

Ribbon
Glue (I used a hot glue gun)
Xacto/craft knife
Stickers to decorate (I chose letters for my kiddos' names and sparkly hearts)
Velcro to keep the flap down
Here's the gist of what ya do:
1. Cut one piece of foam in half hamburger style (he he he!). You will only use one of the halves, so you can put the other piece away. The half you use will be the front of your envelope.
2. Take the half piece of foam that you just cut and cut a half-moon dip on the top edge (see below). This will make it more "envelope like" and easier for little fingers to reach down and get the goodies out.
3. Lay the half piece of foam on top of the other full-size piece so that the bottom edge of the half lines up with the bottom edge of the large piece. Fold the top of the large piece down over the small piece and use a pencil to draw an angle that you will cut for your envelope flap. Don't worry about it being perfect! Just draw it wherever it looks best to you. Cut out your angle.
What your two pieces of foam should look like after you cut them…

5. Now you can put your envelope together! I used hot glue to glue down the edges of my front piece to my back piece before threading ribbon around the edges – just to be safe…
6. Then, make 1/2 inch slits (or however wide your ribbon is) with a craft knife around the side and bottom edges of your envelope. I just eyed it all and spaced them about an inch apart. If you are a perfectionist, feel free to measure it all out. However, I can promise you your kiddos won't care.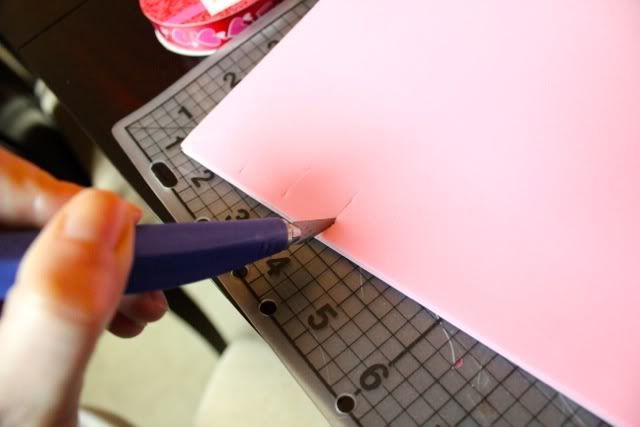 7. Lace ribbon from the top left corner of your envelope down and around to the top right corner. Leave a long piece hanging from each end so that you can tie it to the chair back.
8. Repeat steps 6 & 7 on the edge of your envelope flap to complete the look.
9. Decorate with stickers and glue on small pieces of velcro to hold your envelope flap down.
10. Tie the ribbon ends from the main part of your envelope to the ends from the envelope flap to attach it to a chair. Fill with goodies for your little loves on Valentines Day.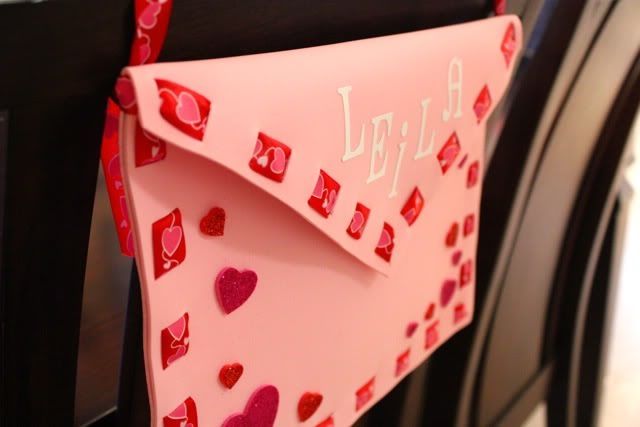 I should mention this: if I had to do this project over again, I would opt to go with felt instead. The stickers just don't stick to the foam that well. I will probably end up gluing everything down. If you want to get REALLY fancy, use felt or cloth and sew fabric letters/shapes on. That way it'll last a lifetime. Enjoy!
Linking this post up with: Sugar & Dots, Clean & Scentsible, Lil Luna, The DIY Dreamer