I spent my childhood running around the great outdoors. In middle school I played volleyball because all of my friends did. In high school I focused in on art and studying my butt off. And then I became a couch potato. Seriously, when people asked me what my hobbies were, the first thing that popped into my head was "watching TV." But of course, that's not what I would respond with.
Over the years I've experienced several bouts of "working out," but nothing has really stuck. I'd get fired up for a couple of weeks, maybe a month and then I would fizzle out. It just wasn't fun to me. I craved something active that I actually enjoyed (besides hiking and snowboarding which aren't exactly easy to do on a daily basis).
So, I've never believed all the hype that living an active lifestyle = less stress, more energy, more happiness. I never believed it because I never had experienced it.
But, I have now.
Back in November I started working out a little bit. And then in December I added on a little more. And now I am getting at least 4 solid hours of fitness in every week. This is in addition to loading the kids in and out of the car and picking up a slew of scattered toys all over our house every night. That's a lot of exercise for a full-time working mom with two kids!!! One of my big excuses for not working out in the past was that I didn't have time. But ya know what? Exercising consistently has given me more energy than I've ever had before. I used to hardly be able to keep my eyes open at 10pm and now I have to make myself get ready for bed. It's fabulous! I'm able to stay up a little bit later and get things done that I never "had time for" before.
Coming from a past certified couch potato, I'm telling you that making time to exercise is SO worth it. But more importantly, you have to find something active that you actually LIKE doing. Don't settle. You shouldn't feel like you're forcing yourself to work out. You should do it because you actually WANT to. It took me a long time to find something I like as much as the Bar Method and I'm sure it is different for everyone. But, it's true what they say: you get to a point where it becomes an addiction – a very good addiction.
It's Not About Being The Best,
It's About Being Better Than You Were Yesterday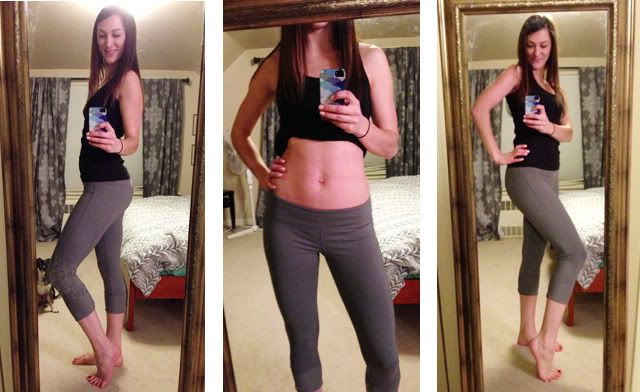 So, it feels SUPER awkward for me to post these pics of myself. I hate doing it. But ya know what? I have never felt better about the way I look than I do now. And if I can inspire someone else to get active, then it's worth it.