For this month's DIY project, I decided to make a lil something for myself. I keep coming across these pretty partial lace infinity scarves that I love. I've seen them on etsy and even saw a rather spendy one in a store. I figured, "Hey! I can probably make one!" And so I did…
Now, my version is probably not as great of quality as the ones I've seen, but it looks good on and it was super cheap and easy to make. I'm definitely no seamstress, but I do know how to sew a (semi) straight line. That's all this project took – sewing 4 straight lines, to be exact. I actually completed it in 40 minutes on my lunch break at home!
For this project I hit up Jo-Ann Fabric and found the softest grey ribbed jersey cotton/something-else material in the clearance section – score! You could totally use an old extra large t-shirt instead if you wanted to be resourceful. For the lace, I couldn't find exactly what I was hoping for, so I settled on using some 7 inch wide lace trim that I found in the ribbon aisle. This whole scarf cost me around $6 to make.
Here's the gist of what I did (keep in mind that I'm not good with sewing tutorials, so if you have any questions please ask!)…
Supplies Used:
14 in. wide x 33 in. long strip of grey jersey cotton blend fabric (I bought 1/2 yard)
7 in. wide lace trim that I put back-to-back to equal the width of my scarf (14 in.)… I used a yard of it, so when it was cut in half each piece was 18 in. long (see below). Instead, you could find some pretty lace fabric of your choice, or even another color or pattern of jersey and cut it into a -14 x 18 inch strip.
Some grey thread and a good ole sewing machine
Supplies: jersey fabric + lace trim…
What I did:
I lined up the short edge of my grey fabric to the short edges of my lace, pinned it, and sewed it together in one straight seam with about a 3/4 inch seam allowance…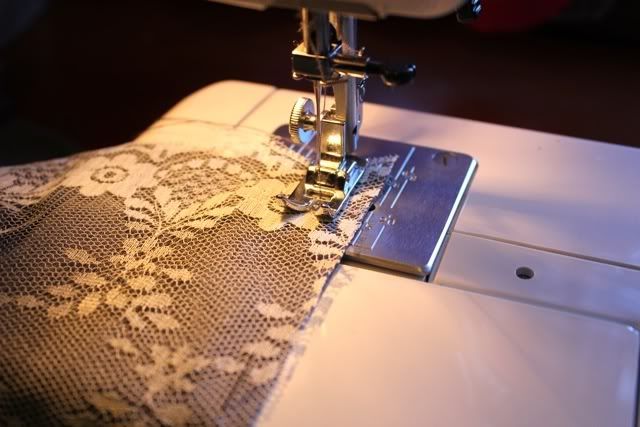 Then (this might sound confusing – I don't really know sewing lingo) I opened up the two strips of fabric against the seam and folded the seam allowance back against the grey fabric and sewed another line. Hopefully these photos will help…
Sewing the seam allowance back against the grey fabric.

Cutting excess seam allowance after sewing seam #2…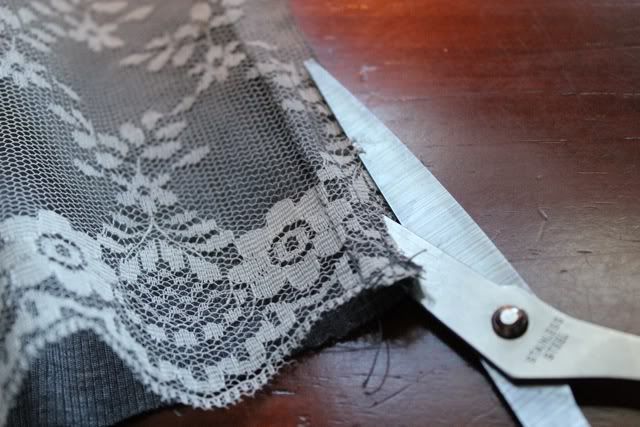 The finished edge from the back…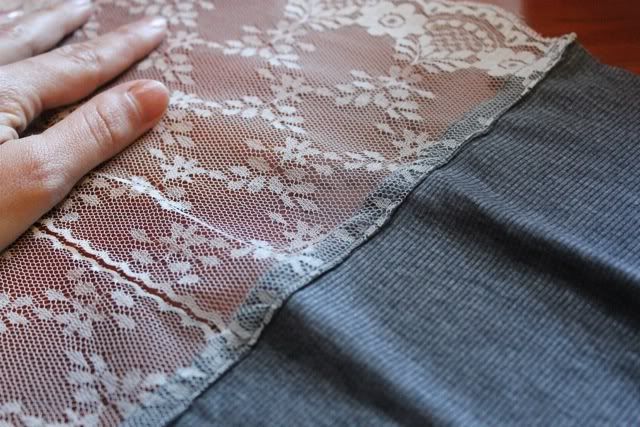 The finished edge from the front…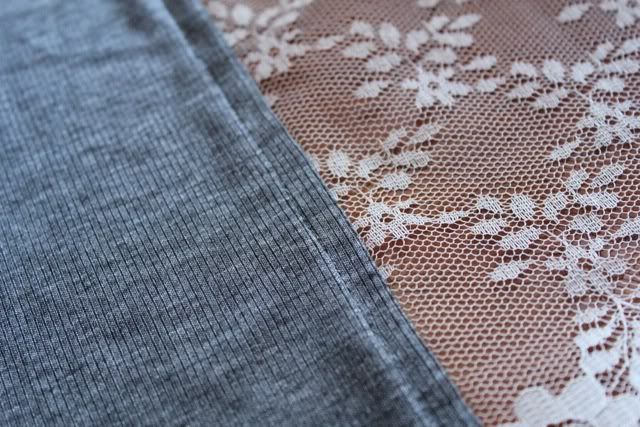 Then, I finished my scarf into a loop (infinity scarf) by following those exact same seaming steps on the other ends of my jersey and lace.
Ta Da!
To wear I just wrap the loop around my neck twice and position the lace off to the side. I love it!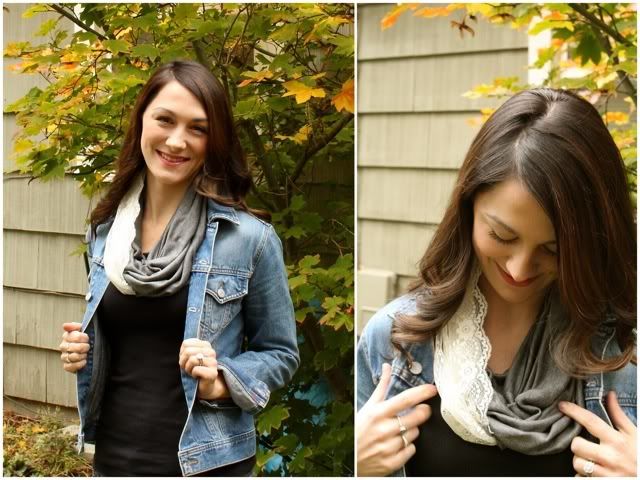 Notice that I did not finish the edges of my scarf.  The lace edges are already finished and the jersey doesn't come apart, so I figured I didn't need to!  Besides, once you put it on the edges of the jersey sort of curl and they aren't even noticeable.
I think I'm going to make some more of these with different fabric/color combinations and maybe try to make one with double layers and finished edges. But, that would require more time. We'll see. They would make great Christmas gifts, though!
Linking this post up with: Thirty Handmade Days, Whipper Berry, Just Us Four, The Shabby Nest, Simply Sweet Home