Obviously it isn't easy juggling a 40 hour/week job, a marriage, a home, and 2 little kids to take care of. Throw a blogging hobby in there and really there isn't time for anything else. I've always been a really disorganized blogger. With the exception of my "Wise Words Wednesday" posts, I have absolutely no schedule that I post on and usually no clue what I'm going to post about until I actually sit down to write. This method has worked out well for me, but I'd really like to start being a little more intentional with this here blog and lately I've also been craving more structure in my life. I need more of a schedule.
So, I set out on a Google mission. I was interested in finding out how other bloggers manage their internet homes and I was hoping I would find some sort of organizer/planner for my blogging. I wanted something physical. Sure I love my computer and my phone, but when it comes to organization, notes, and my creative thoughts, nothing is better than good ole pen & paper. My search led me to Beckie at Infarrantly Creative's Free Printable Blog Calendar. You guys, Beckie is seriously a GENIUS because this thing ROCKS!
I'm totally counting this as my monthly DIY project even though I didn't really do much of anything myself. However, I am VERY excited about this and love how it turned out!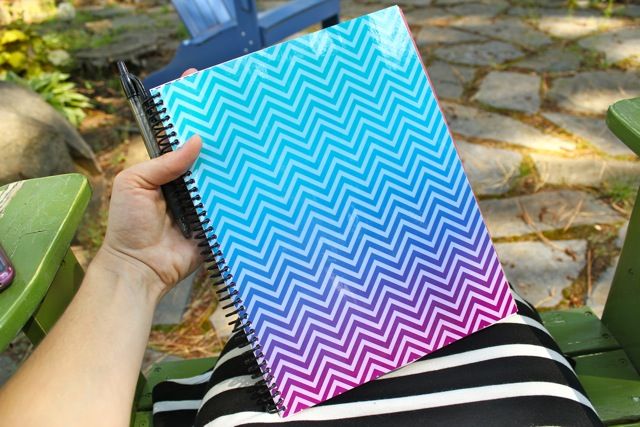 You totally need to visit Beckie's post on Infarrantly Creative if you are interested in seeing how cool this planner really is – she has a video posted! But basically, it consists of a monthly calendar tear-off pad with weekly planner pages that store behind the monthly calendar. This way the current month and week are always right there when you open it up.
Beckie offers readers a file that is already "pretty" AND a plain one that you can add whatever background you'd like to. So, I decided to utilize a variety of chevron and moroccan tile colored backgrounds. And I also changed the text on a few of her boxes to keep track of what matters most to me.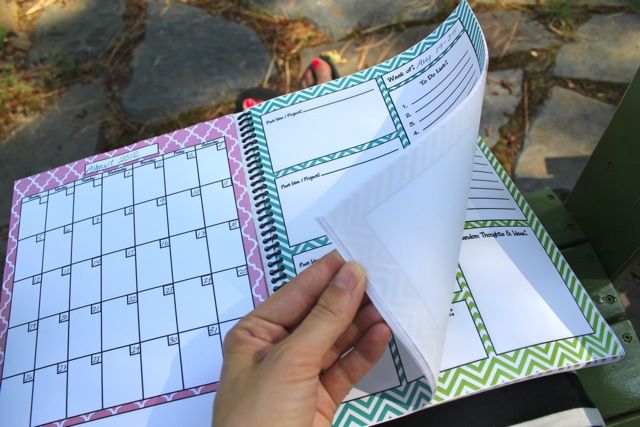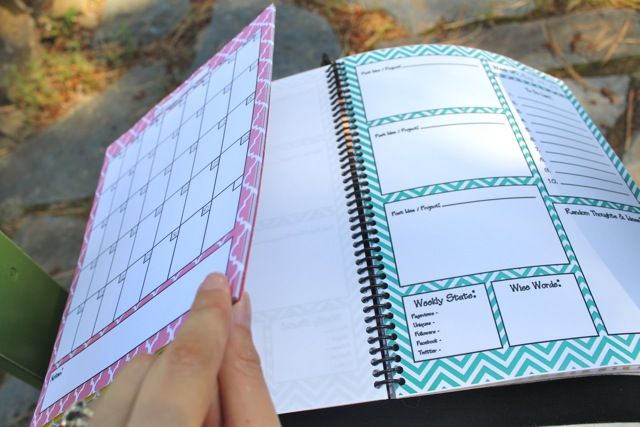 I printed off all of the pages (to last me through the rest of 2012 and all of 2013) myself and then took them, along with a front and back cover (laminated print outs I made) to Office Depot. I had them make the monthly calendars into a tear-off pad and had them bind the weekly pages. Then, I cut down a file folder to size and attached the tear off pad to my planner book (see Beckie's exact tutorial for all of this). Office Depot charged me $5 for this. Not too shabby!
I found the backgrounds I used at my new favorite freebie blog by Mel Stamps. That's also where I found the chevron overlay that I used to create the planner cover in photoshop. Love this blog!
Now let's see if I actually utilize this thing to bring a little structure into my chaotic life!