Last month when I made that little magazine collage picture frame for L&L's room, I also purchased a big ole cardboard "B" (for our last name) at the craft store. After letting it sit around for a month, I finally decided that I wanted to cover it with my Instagram pics (I am pretty much obsessed with Instagram – @dreamstodo if ya wanna follow my feed). And I'm pretty much in love with how this turned out!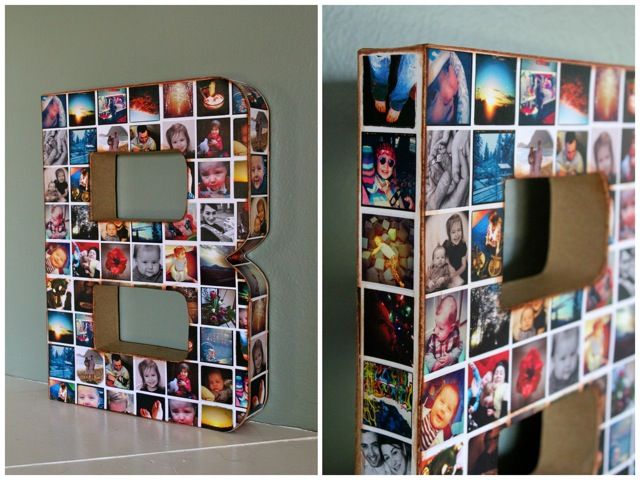 What you need:
A big letter of your choice (ours is the cheap cardboard variety)
Spray adhesive (or an adhesive of your choice)
Xacto knife
Cutting mat
An 8.5×11 collage of your fave pics (3-5 copies of the same one or multiple collages)
OPTIONAL: distress ink for the edges
How I made my collage:
Using Picasa (Google's free photo editor), I created an 8.5×11 mosaic collage of about 45 of my Instagram pics. You could easily use ANY photos of your choosing and make any sort of collage of your choice as well. I just made ONE collage, but printed out 4 copies of it to use for my "B."
Putting it all together:
Lay out some newspaper (or do this outside) and then spray down the back of one collage sheet with tacky spray. Stick that sucka on your letter, making sure you line up your pictures the way you want them to be displayed.
If it only takes one sheet to cover your letter, cool beans. If not, spray another sheet and line it up with the previous one and stick it to your letter. I cut off the larger white edges before I laid down the 2nd sheet, so that the collages flowed together nicely.
Once the front side of your letter is covered, flip it over onto a cutting mat. Take the xacto knife and cut around the edges of the letter…
Once the front of the letter is covered, you can do the sides by cutting out strips of photos from the extra collage print outs. I just totally lucked out that the photo strips ended up fitting pretty perfecting along the sides of my "B." Spray your photo strips with spray adhesive and stick'em on.
Now you can be done if ya want! BUT, I recommend using some badass distress ink to age the edges of your letter (I rubbed it on with my finger). It just gives it more of a finished look.
So, I could have lined the inside of the "B" with photos, but I like how it looks without them (okay, maybe I was being lazy, too).  This little project maybe took me an hour of time total – including creating the collage. My kinda project. 🙂
Hope you all had a wondrous weekend!