My little (big) Landon is 6 months old now and I've been cloth diapering him for about 5 months. I NEVER thought I would be up for the challenge of using cloth diapers, but it turns out that it really isn't very challenging and I actually love it! For us it is a win-win-win situation because we are reducing waste, preventing diaper rash and blowouts (we NEVER have blowouts with them), and they are friggin' adorable!
When the kind folks at Jungle Roo Cloth Diapers contacted me about doing a review, I seriously did a happy dance. All of you cloth diapering mommas out there know how exciting fluffy mail can be. 🙂 And when I got their Giraffe Roo Minky diaper in the mail, it was hard not to put it on Landon straight out of the package without washing it. This thing is seriously so stinkin' cute and ridiculously soft!
My little stud muffin, rocking his new dipe…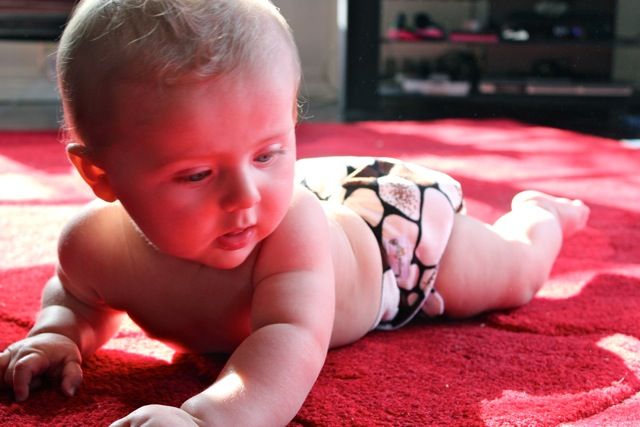 This Jungle Roo cloth diaper has a baby-blanket-soft minky leak proof exterior with suede cloth lining. It is a pocket diaper and the insert that comes with it is 3-layers of microfiber – I find it to be super absorbent. In terms of size, I am absolutely loving this dipe for my big boy. It will fit babies from 9-30 lbs, but in terms of overall size it seems to be slightly larger which is great for bigger babies. I layed it down next to a BumGenius 4.0 and a Sunbaby  – the Jungle Roo is slightly larger than the BumGenius in terms of length and about the same in terms of width (which is quite a bit larger than the Sunbaby). Loving it! As for the snaps, this baby ROCKS! It has three rows of rise adjustment snaps, hip snaps, and waist tab overlap snaps for newborn fit. I will be getting plenty of use out of this bad boy!
You can learn more about Jungle Roo Cloth Diapers here:
Jungle Roo pocket diaper + insert…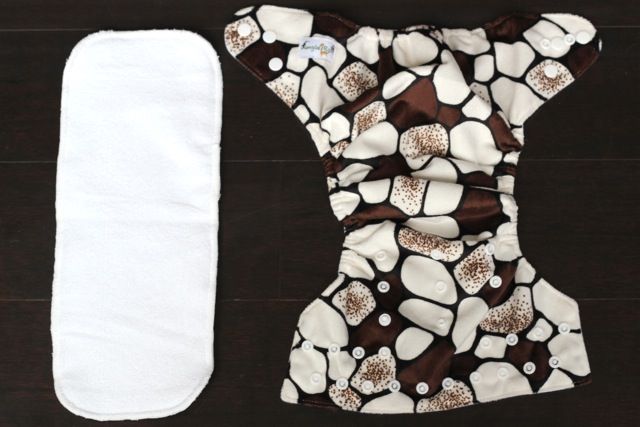 I love me a fluffy butt!

So, today I am super excited to be hosting my very first giveaway!
One of you is going to WIN your very own Jungle Roo Cloth Diaper!
Don't use cloth? Enter anyway and maybe you can give it a try! There are SIX possible ways for you to enter via the widget below. A winner will be randomly selected one week from today.
Good Luck!
a Rafflecopter giveaway
You need javascript enabled to see this giveaway.