Maybe you could tell by my Friday post that I was expecting unicorns and rainbows this past weekend. Well, for the most part it wasn't too bad, but I had a couple stingers bring it down.
First of all…today's post was going to be a break down of my April DIY project – bubble magnets. It's not that I didn't complete said project, it's just that they didn't turn out quite how I had hoped.
Regardless, I am proud of myself for giving it a go, but super bummed that I can't share that little project with you at this time. I will be giving it another try this weekend (tweaking some things) and will have them down to a perfect, and easier, art. 🙂
Secondly, our furnace broke. We had 80 degree weather last week so no prob, right? WRONG. It dropped down to nearly freezing the last couple of nights so our house has been COLD. And I am NOT a fan of the cold.
Okay, enough whining. Other than those two setbacks, every thing was fab! Here are some happy weekend pics…
The tulips in our back yard bloomed!

Mmmmmm, carrots.

"I'm gonna get you Landon!"

And he's down.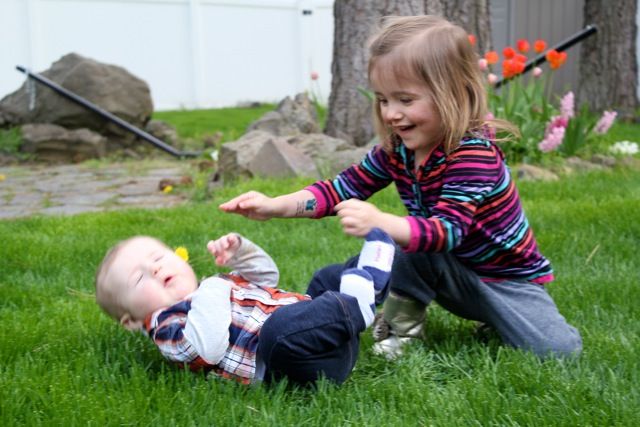 Ha Ha! Those last two kill me.
More happy news? Congrats to the winner of the Jungle Roo Cloth Diaper Giveaway ~ TRACY! If your name is Tracy, check your email girl. 🙂
Want some more random tid-bits? Well, you're getting them:
1. My little Lando gets his helmet today. I'm nervous. I hope he takes to it well. I will share pics soon. (Check my FB & Twitter tonight for sure.)
2. I have another giveaway coming your way in the next couple days. I'm just putting that out there because I know some people get irritated with giveaways and I want ya to know that I have no plans of becoming a blogger who gives something away every day or even every week. This will be the last one I have planned until something super cool comes my way.
Hope you all had a stupendous weekend & wishing you a wondrous week ahead! {Rainbows + Sunshine + Unicorns}