My little boy is 6 months old today – that's 1/2 a year already! Craziness, I say.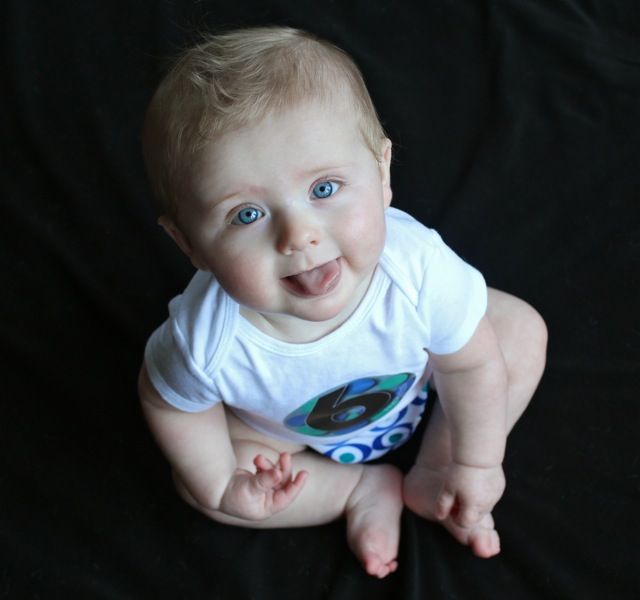 Landon Drew at 6 months…
Weight…we'll find out at his 6 month appt. next week. Around 20 lbs is my guess.
He's wearing 12 month clothing the most comfortably. We still have some 6 & 9 month things that we put him in, though.
Starting to eat food! He's tried avocado, sweet potato, rice cereal, squash, pears, & a Ritz cracker. 🙂
NOT sleeping through the night. Boo hoo.
Landon is the HAPPIEST baby on the block. He seriously smiles pretty much non-stop and his smile just lights up the room. That's why it is super hard to be angry with him at 3am when he's just smiling his head off at you.
Sits up all by himself unassisted. Started that a couple weeks ago.
Still just barely rolling over. The kids got a lot of weight/girth to manage!
Sissy is still his favorite person ever.
He gets more and more vocal every day. A lot of cooing and squealing going on around here.
Loves his toys (especially Sophie the Giraffe – the most over-priced toy out there, but worth it for us because we're on kid #2 with it!). He seriously will sit in his high chair or on the floor and be totally content playing with something for up to a half an hour!
Landon still has the most beautiful baby blue eyes! I have a feeling they're sticking around.
Gosh, I just love this kid soooo much it hurts! I cannot even imagine our life without him in it.
Sissy got in on the photo-taking action, too…

Hope your weekend is off to a fabulous start! Stay tuned for my very first giveaway on Monday and my April DIY project later in the week. Yay!