"Twenty years from now you will be more disappointed by the things you didn't do than by the ones you did do. So throw off the bowlines, sail away from the safe harbor. Catch the trade winds in your sails. Explore. Dream. Discover." – Mark Twain
Leila Jade in Hawaii, Jan. 2011…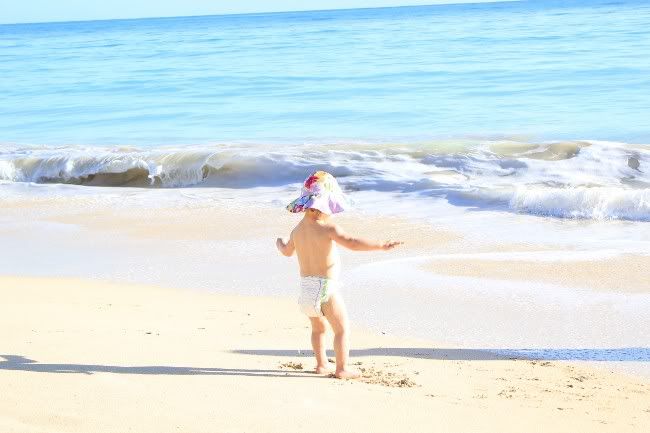 One thing I am positive of in this life is that I LOVE to travel. If I could do ANYTHING, I would see the world… I would spend 50% of my time at home and 50% of my time traveling to new, exotic places. If only money wasn't an issue.
I posted on facebook yesterday that we were getting our taxes done and if we came out with any sort of return, we would go to Hawaii this year. Well, we did! So I'm pretty sure we'll be heading back to Hawaii in June. Why Hawaii? Because the hubby & I both have a soft spot for the closest-to-us tropical islands… our wedding, no international travel required, perfect weather – need I say more?
My only reservation about going? The 5+ hour flight with 2 little kiddos. That kinda kills the excitement a little. BUT, I can't imagine taking a trip without them. Am I crazy? Maybe a little, but I just want them to experience the world as much as they can. I want to see their eyes light up with excitement when a plane lands in a new place. I know they are both still so little, but I lay in bed at night and I dream about the days when they are a little older and we can take extended family trips to explore Europe, to volunteer in Africa (one of my biggest Dreams To Do), & to hit up Disney World.
Traveling is expensive, but it is SO worth it. I am obsessed with the Mark Twain quote above… life really is too dang short to NOT just go for it… to spend time in other parts of the world… to EXPLORE. DREAM. DISCOVER. Pretty much sums up my mission in life, right there.