Our relationship started off as a really strong friendship and over time grew into love.  My hubby & I went through some REALLY tough years to get to where we are today. Here's the continuation of our love story…
If you haven't yet, read the first part of our love story HERE.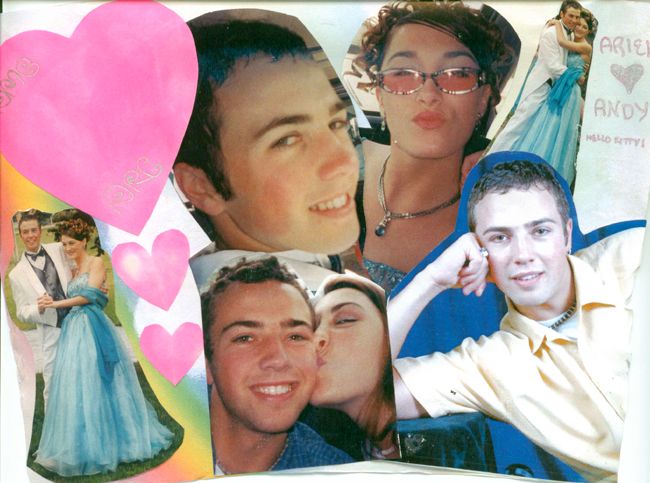 So, after initially meeting in the summer of '98, when I was just 14 and Andy was 13, I thought that maybe we had something special. But over the summer I realized that I just saw Andy as a good friend (he didn't agree) and unfortunately for him, I ended up falling for his best friend at the time (the epitome of teenage drama). Sad, huh?
After that summer I started high school in my first serious relationship (with Andy's BFF). Him and I were together for over 2 years. During that time, he and Andy drifted apart as friends, but Andy and I remained friends. We still talked on the phone occasionally and hung out with a mutual group of friends at school. Andy claims that throughout that entire time he always loved me and was just waiting for me to feel the same. Geez, I was suck a jerk!
Now for the tricky part. When did I finally fall for him? And the answer… I don't even know. Even while I was in a serious relationship with another guy (well, as serious as teen love goes), Andy never hid his feelings for me. He would always write me love letters and leave them in my locker. And, I remember one Valentine's Day I got roses, a bunch of balloons, and a box of chocolates delivered to me in math class. I just assumed they were from my boyfriend. Nope. They were from Andy. The boyfriend didn't like that too much. 🙂
By the end of my junior year of high school (Andy's sophomore), my feelings for him were starting to become stronger. My boyfriend and I broke up… and maybe Andy had a little something to do with this. But, Andy and I didn't officially become a couple until my senior year… and by that time we were crazy in love. The progression of our relationship happened so gradually that I don't even know when my feelings of love for him as a friend changed into feelings of romantic love. Like I mentioned in my first love story post, we always from day 1 said "I love you" to eachother, so I don't know when those words became true. All I know now is that he is my soul mate and I can't imagine life without him.
Since falling in love in high school, we've been through a lot. I graduated a year before him and went off to college across the state. That was our first year of long distance love. And it was TOUGH. Finally, Andy graduated high school, joined me at college for a couple years and then I graduated and got a job and he got accepted into Pharmacy school a couple hours away from me. Once again we were living in different towns. That was 2 more years of long distance love.
And then? Then we got engaged and it was all up hill from there. I can't wait to reminisce all about my PERFECT proposal and our dream wedding in my next post. 🙂
Stay tuned…