My little man turned 3 months old yesterday! I can hardly stand the cuteness…
Landon Drew at 3 months…
Not sure about his weight, but he's wearing mainly 6-9 month clothing. Still HUGE!
Inconsistently sleeping through the night, but I'm not complaining! Every few nights he'll sleep from 7:30pm to 5-6ish am without a peep! But usually he'll wake up to eat around 3am and go back down until 7. Not too shabby!
He eats every 3 hours… 6 ounces of breast milk/formula from a bottle during the day! Little piggy! And at night/in the mornings he would never latch off of my boob if I didn't make him. Ha!
Landon is still such a little lover – so easy going. And he seems to be adjusting to daycare life just fine.
He gave me his first little giggles a couple of weeks ago when I was tickling his neck. But, he hasn't laughed much since – he's a pretty serious little dude!
I can't even imagine life without him now.
On another note, yesterday was such a great day! It was my first full day home with the kids by myself where I didn't feel like I was gonna go crazy. They were soooooooo well behaved! And, I think that after my first full week back at work I was really able to appreciate every little second of yesterday with them.
Here are a couple more pics from yesterday's 3 month photoshoot…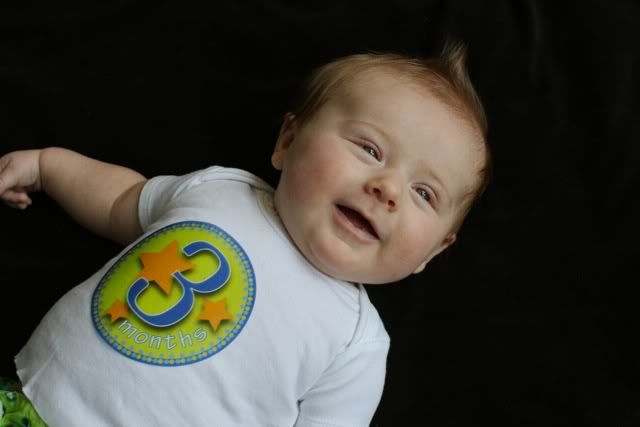 Big sis just had to butt in…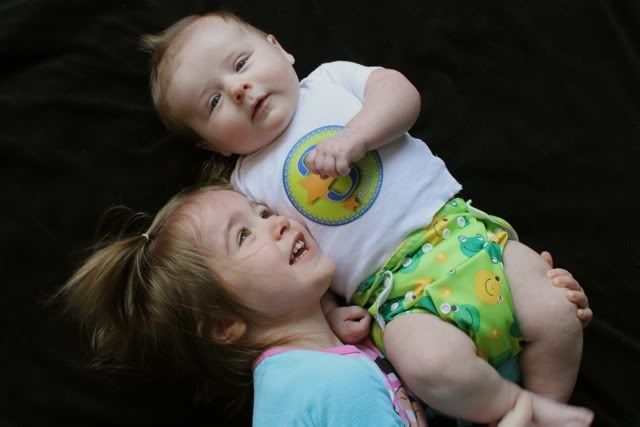 Now off to enjoy the rest of my Sunday off with my littles… back to the grind tomorrow!