Looky what I made!
The other week I saw a similar craft floating around Pinterest. Soooooooooo, I decided to try to make something like it! First I hit up a local craft store for some polymer clay. When I was little my BFF & I used to make stuff with this clay with her momma (remember Jess?!), so I was mildly familiar with it. Here's what I used…
I bought 2 different kinds of polymer clay: Premo & Sculpey (not really knowing what the difference was… I just chose based on color – Leila really wanted that HOT pink for hers). This clay comes in EVERY color you could ever want! After working with both kinds, I would highly recommend using the Sculpey because I found it to be a little bit softer and much easier to work with for this project. Each kind was on sale for $.99/brick. I used 2 full bricks for Leila's foot and about 1.5 for Landon's.
Here's what ya do:
Work the clay for a while in your hands to soften it up (it is hard as a rock at first).
Shape it into a flat oval (see below – I just rolled it in a ball and smashed it on our counter top).
Push it up against baby's foot (or have your toddler step on it).
Punch a hole in the top with a straw (to make an ornament) & use a toothpick if ya want to inscribe a name or date or anything onto it (I chose to just use a metallic sharpie to write on the back after it was cooled).
Bake it in a glass baking dish according to the directions on the clay package.
Tie a pretty ribbon through the hole & hang your ornament!
OPTIONAL: paint the footprint with Mod Podge (my favorite thing ever!) after it is cool to give it some shine and make it stand out more.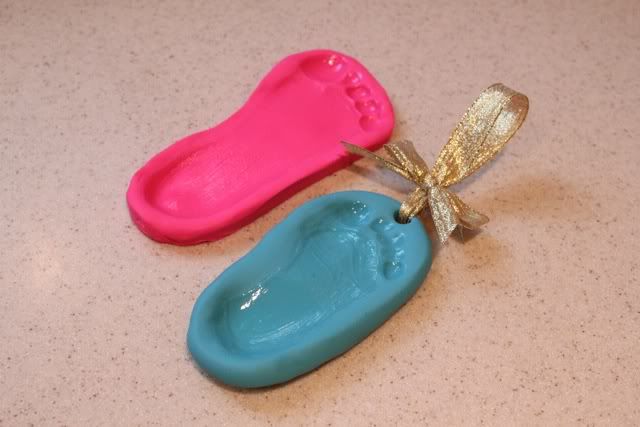 Leila's foot is too big, so we opted to not make an ornament out of it. But it is still a cool memento to look back on!
Aren't they cute? Seriously, I am not a crafty person, but these were super easy to make and took hardly any time. You could even do a handprint instead. Try it!
UPDATE: I have received quite a few emails asking for tips on softening up the clay. First of all, I would highly recommend purchasing the "Sculpey" brand clay as it is a little bit softer and easier to work with. Otherwise, you just really have to work the clay for a while – sit on it, warm it up in your hands and maybe use a rolling pin to really get into it. When it comes to making the actual print, you have to push baby's hand/foot into the clay pretty dang firmly and kind of mold the clay around the little hand/foot. Afterwards, you can carefully reshape things and cut around the print if you choose. Also, after you bake it, if you paint on some glossy mod podge it'll accent the print even more. Here's a link to some other tips to soften this type of clay http://www.spazzticcrafts.com/how-to-soften-sculpey.php. Hope this helps! Good luck!