Yes, I am still pregnant. And I apologize to those who may not know me in real life who may have thought I had the baby… nope, just been MIA for almost a week (due to baby prep & stress at work & emotional exhaustion).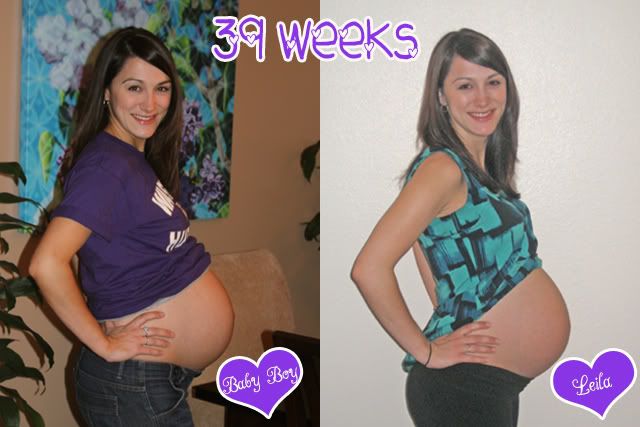 Wow, I look almost exactly the same this week as I did with Leila last time – even my hair looks the same!  It's funny how some weeks I have looked much bigger and some weeks I look so similar. Craziness I say!
Pregnancy tid-bits for this week…
I can't believe I only have a week to go (ok, maybe 2 weeks if he decides not to make his own appearance).
Up until today I have been wanting baby boy to stay inside of me. Yesterday was Mike's memorial and I really wanted to make it through that. Now, he is free to come whenever he wants! Bring it on.
At the same time I am SO not ready to do this. Terrified of L&D because I know what it's like. Still haven't packed my hospital bag. Work is chaos and I still haven't even met with my boss yet about my maternity leave. But, whatever.
I AM super excited to have a cute, lil, snuggly baby in the house! 🙂
I am already getting used to the lack of sleep – been sleeping like crap lately. It's so funny how your body prepares you for sleep deprivation before baby even gets here.
This weekend will be fun…if baby isn't here yet I'm gonna try to make him come. No, I'm not gonna try castor oil or anything too crazy, but I am going to be SUPER active and stay busy and eat lots of spicy food and pineapple. And maybe even try this. Any other suggestions?
Can't wait to see his sweet face! And figure out a name for him! (ok, maybe that's a lie… I'm kinda dreading having to settle on a name.)
Now, let's see if there will be a "40 weeks" post! Who knows!?