Another amazing weekend packed full of goodness, but I failed to bring my camera along for the ride. So, while this post could be full of awesome photos, it will instead be a brief bullet point synopsis…
I started my weekend off early by ditching out of work at 3pm on Friday and heading to my tiny hometown for a benefit dinner for our good friend, Mike.  Good food, good friends, GREAT cause.
Lunch & shopping with my gal & my momma on Saturday. All I bought was 2 shirts for the Hubby. Lame, I know.
Laundry, Laundry, & more Laundry.
Got the crib all set up! I raised it up, put a clean sheet on it, and ironed Leila's old crib skirt. (I hope turquoise and zebra stripes area appropriate for a little boy.)   🙂
Ventured off to Wally World for an early morning shopping trip with Leila in tow (Hubby worked all weekend). We were in and out in 40 minutes (I think that's good!) and left with a cart full or groceries, some baby clothes, shoes for Leila, and lotion & nail polish for me. It only took 2 lollipops to keep Leila happy.
This afternoon we enjoyed some sunshine with my good friend Holly and her 1 year old, Lucas. The kiddos were so darling together and I am so mad at myself for forgetting the camera (and being too stupid to remember I can take pics with my phone).
And finally, my biggest accomplishment this weekend involved crossing an item off my 2 Month To-Do List…
I finally sewed the 2nd softie blankie for my little man! And this time I used a crap load of pins and it turned out much better than the first one.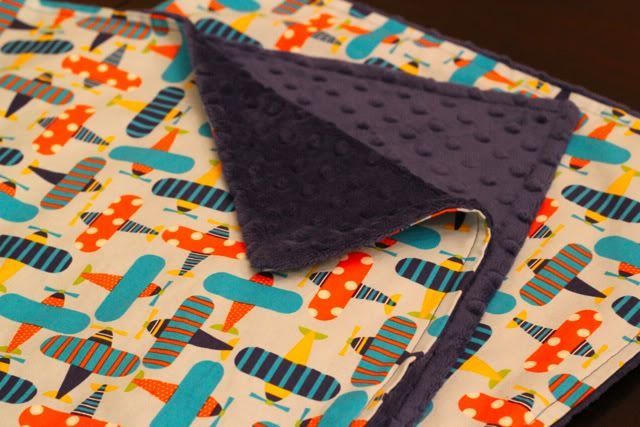 I took this photo in crap lighting and the colors turned out all whack. It's actually a lot prettier in person.
So, here's my updated to-do list to get done before the baby arrives…
Clean out the garage and GET RID OF CRAP!
Organize the office (without spending ANY $). I would love to turn it into my little craft room.
Put my jewelry making supplies to use! I need to complete a trial run before baby gets here! But I need the office organized first!
Sew blankie #2 for little man along with burp rags with leftover fabric.
Sit down and have a serious budget talk with the hubby. We need to discuss ways to control our spending better ASAP.
At the same time, convince hubby to let me spend lots of $ on stuff I need for baby… cloth diapers/wipes, wet bags, diaper sprayer, new breast pump kit, ergo baby carrier, & I really want a Kindle/Nook (ok, so maybe this one has nothing to do with baby… he he).
Figure out plan for when/if I return to work… I need to talk to hubby and the boss man… part time? full time? not at all? I have some serious thinking & figuring out to do.