Today was a typical, dull day at work. Nothing exciting. So, by the time 5 o'clock rolled around I was super stoked for the weekend ahead. I eagerly ran out of the office at 5-on-the-dot with plans to spend the evening having a picnic dinner with my beautiful daughter in the 80+ degree weather.
Upon arriving at daycare, my plans and excitement instantly disappeared. I walked in to find a sad, sick little girl with big tears dripping down her face and a faucet of snot coming out of her nose.
My poor baby.

Mommy mode kicked into high gear. I gathered her up in my arms and she melted into me. She needed her mommy. Sure, my plans for a carefree evening full of frolicking outside with my 2 year old went down the drain, but my mommy ego was at a high. I got her home, gave her some medicine and juice, let her watch some Dora, and we snuggled on the couch.
It really doesn't get much better than knowing you are making the most important person in the whole wide world to you feel good.
After a while, Leila started to rally. We did end up going outside for a little while and I even got her to eat some carrots and give me a fake smile…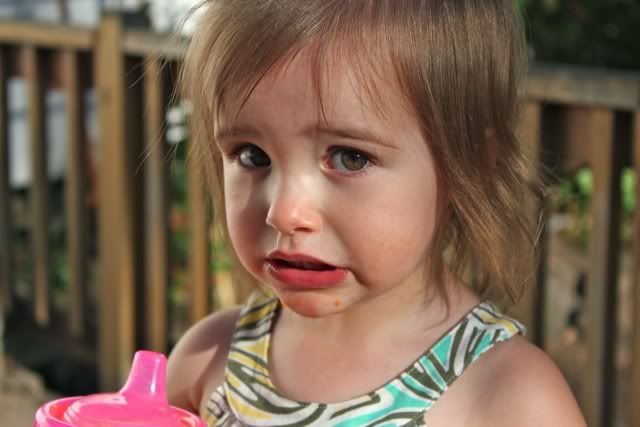 I guess we'll see how this little cold affects our summertime weekend plans that were supposed to include a visit from the Binky Fairy (who takes away binkies from big kids and gives them to babies… not sure if I want her to visit while Leila is sick).
Happy Weekending!!!