Let me start by saying HAPPY MEMORIAL DAY! I feel truly blessed and honored to live in this Country and my heart goes out to each and every serviceman/woman who is out there serving us now and those who have lost their lives for us.
Now on to my pathetic post. I title this "Pathetic Post" because that's how I feel right now and kinda how I feel about my Memorial Day weekend. While everyone else was off camping or enjoying sunny weather, I just had a weekend full of cluster-nothing. Yes, cluster-nothing…I'm making that up. It was a mish-mashed variety of highs and lows, ups and downs, good and bad.
Highlights:
My MIL and I went to the broadway musical Wicked on Saturday afternoon and it was AMAZING!!! Seriously, if you ever have the opportunity to see it, it is worth every single penny.
Leila's bedroom was painted a beautiful sky blue/turquoise and now all it needs is some clouds to be painted on. Since her and baby boy will be sharing a room for a while we're making it pretty neutral (with butterflies in the "sky" on her side and airplanes on his).
Andy got off work early on Sunday (YAY!), so we went and visited our good friends Jess & Mike. If you read this past post, you may remember that Mike is in the midst of a nasty battle with cancer right now. I'm happy to say he is kicking its ass! Well, at least he seems to be doing better and is in good spirits. It was great to visit with them for a while.
We got a BRAND NEW fancy front load washer and dryer since our old school 80's ones finally bit the dust. I never thought I'd be so excited to do laundry in my life.
Lowlights:
I'm seriously slacking on my Dreams To Do and it makes me feel like crappola. Yes I am growing a baby which is a dream in and of itself, but I just can't seem to get the friggin quilt done so I can move on to other things. I went to the fabric store, bought what I needed to do the binding and tie the quilt together, but I got the wrong needles and then I royally screwed up the binding before even getting to the sewing part. One full nap time gone to waste. 
Leila was a nightmare today. And my child is usually quite the angel. She must be FINALLY working on getting some more teeth (she has about 8 to go still). She was just super needy and cried over the littlest things. I was at her disposal all day, so I didn't get anything on my to-do list done.
I tried to be a good mommy and make homemade mac n cheese instead of the boxed variety.  Well, you wanna know how that turned out?  See for yourself…
Looks like barf and tasted like it, too. That's what I get for not following a recipe.

On the flip side, my daughter did pick me a lovely flower (i.e. dandelion) which did bring a smile to my face.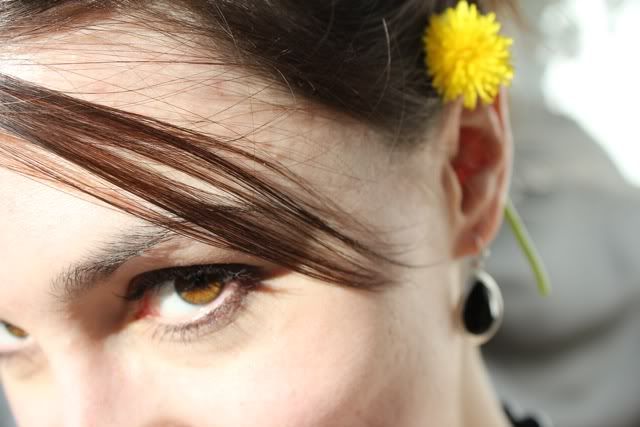 Back to the grind tomorrow… 🙁