This past weekend brought friggid temps (can you fathom -10 degrees?) which required a lot of cozy-hunkering-in kind of moments. With my hubby having to work both Saturday AND Sunday, Leila and I were left to our own devices. That being said, we ventured off on an hour+ long car ride to the hubster's parentals house to visit with them and his sis and her fam who were visiting for the weekend. OMG did Leila sure have a blast with her cousin Beau!
Can you see the crazy resemblance between these two?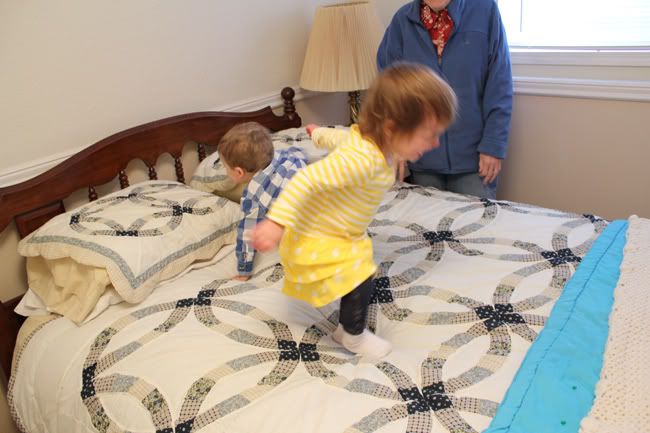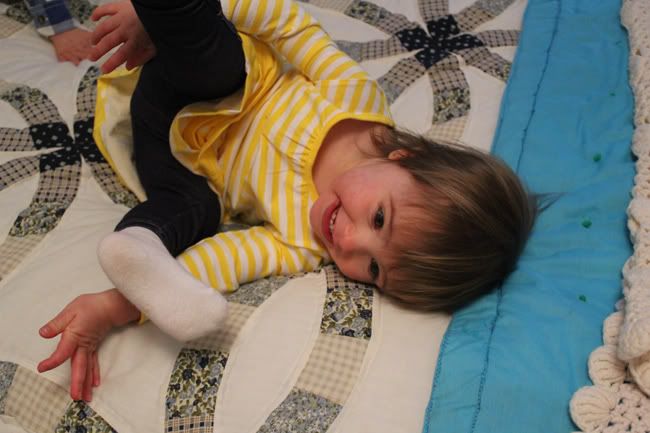 So, Saturday was spent lounging on couches, inhaling homemade brownies (with marshmallows AND frosting), watching kiddos jump on beds, and catching up with family. It was fabulous! We headed home with warm hearts, that's for sure!
As for Sunday it was still a day spent hunkered inside all warm and cozy, but not quite as much fun. Leila was needy. Billy (our doggy) was needy. Mommy was needy. And, Daddy was working. Basically, remember how I said that we had the BEST day last Thursday during our snow day at home? And remember how I said it totally made me wanna be a SAHM? Well, yes I would still like to spend more time at home with my little lady, but Sunday drove me batty. For some reason little miss Leila was extra whiny and wanted me to hold her all the time. Billy had an upset stomach and also wanted me to hold him all the time. I basically just kept looking at the clock, counting down the hours until Andy would be home. The highlight of our Sunday? Meeting my momma for an early Mexican food dinner! And let me tell you, a hot enchilada with some rice and beans warmed my heart right back up!
Two more random tid-bits from our weekend:
Leila ate a chicken nugget!!! For those who don't know, my daughter is a self proclaimed vegetarian and this just about blew me away! Never has she wanted anything to do with them before!
Leila ate out of every box of cereal we own. See below.
HAPPY MONDAY!