I have a virus. No, not in my body…in my computer. His name is Trojan Zefarch and he is not very nice (yes, the virus is a boy – duh). He causes all sorts of annoying pop-ups and instantly takes me to a porno website, even if I am not in an internet browser. He sucks. So, I'm pretty bummed right now because all I wanted to do was get online, and type up this little post about how excited I am to go to Hawaii tomorrow. But Zefarch put me in a sour mood. I just spent the last couple of hours trying to get rid of him with no luck. So, now I am on my old laptop which took about an hour to boot up and actually connect to the internet. Lame.
Anyhoo, the real reason for this post is HAWAII!!! We are leaving on a jet plane tomorrow! I am absolutely terrified to be stuck on a plane for 6 hours with my feisty toddler, but I can't wait to play on the beach with her. Can you say sand in the crack? 🙂 We'll be dealing with a ton of that, I'm sure. And, we will be returning to this very special place…
Waimanalo Beach…06/07/08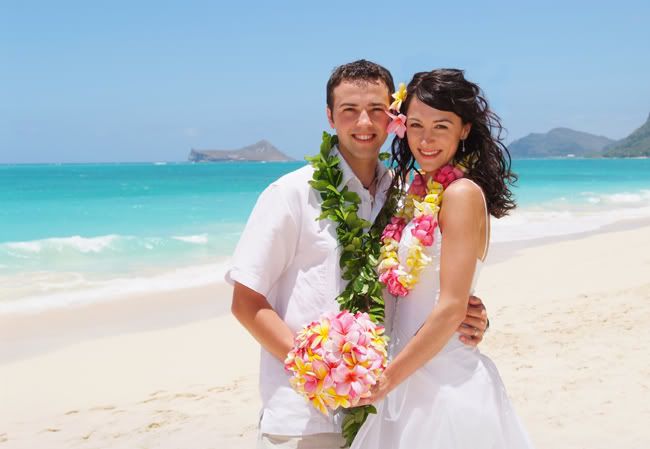 Ahhhhhhhhhh…it will be magical! And, we are planning on using our new tripod and fancy camera to take a family photo where we got married! Oh trust me, I will be posting a ton of amazing pics when I get back. So, for the next week you probably won't hear from me. I will be lounging on the beach drinking some lava flows. Oh yeah!
When I return I plan on hitting the dream list hard. Probably starting out with Leila's sleep training (boo!) and then maybe making a quilt or heading to the bead store to explore jewelry making options. And, I'll probably be purchasing a new computer, too (a brand new, beautiful, mac book pro…preferably). Take that Zefarch!